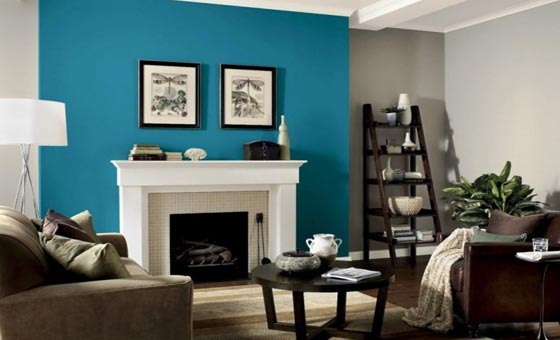 It's not that difficult to work out an amazing colour scheme for your favourite room.  You don't have to be an interior designer like Sam Sorgiovanni to have a home that pops with all the right colours. It can be quite an easy job to choose colours for any room if you have a pretty mat or even a piece of artwork you really love and intend to use in it. Here's what to do.
Choose the main colour in the artwork and use a colour chart to find a paler or lighter version for the walls of the room. This will usually be a background colour, not the part that pops out at you.
From the wall shade, choose a slightly darker hue for the carpet.
Choose those eye-popping colours in the artwork for your sofa and a lighter hue of the sofa colour – or a contrast colour – for the easy chairs.
Pick out a minor colour from the artwork and use it for the cushions and some of the other accessories such as lamps, vases and rugs.
Always make the ceiling the lightest part of the colour scheme. You can have white, or choose the palest shade available from the wall colour.  This reflects nature, where the darker colours are underfoot and the brightest or lightest are above.  A light ceiling reflects the light and makes a room look lighter and larger.
If you can't decide what colours you like, look at what you like to wear and feel comfortable in. Add those colours to the living room either in accents or mains.
Adding a touch of black will help to clarify the colours of your room. Even a black vase seems to make the rest of the room spring into better focus.
Shades of grey can form a restful backdrop in a room and you can experiment with hot pink or orange, blue or green shades to add interest. Everything goes with grey whether it's a warm colour or a cool one.
Remember the rule of 60-30-10. The dominant colour –walls – should be 60%, the secondary colour – usually upholstery – is the 30% and the accent colour – accessories such as cushions, lamps, rugs – should be 10% for proper balance.
It's a good idea to remember that you can have any colour scheme you like in your home. It should reflect your own tastes and personality rather than someone else's, unless you particularly like their style.  So while it is good to look at the work of others, always choose something you like, rather than something that you think others will like or expect.  In this way you will always feel comfortable in your own home.