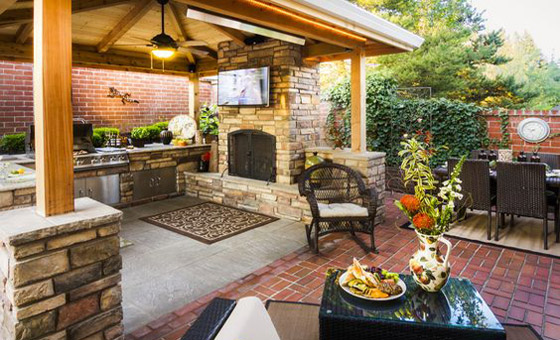 There is no doubt about it, landscaping increases the value of your property. Not only does it make your property look beautiful, it shows everyone that it is a well-cared for property. If you wanted to buy a property you would certainly be less interested in one that had long, straggly grass, half-dead shrubs and weed-filled gardens. You would even suspect that the roof might leak, just by looking at the garden!
Whether you are selling your home or not, it is easy and fun to get your outside area into great shape, especially knowing that the value of the home will rise by up to 11%, as discovered by a Michigan University study. Here are some tips that will provide good value in your landscaping or garden maintenance efforts.
Create edgings around your garden and lawn. This can be simply done by digging a narrow edge with a spade, or you can use bricks, bush rocks or other media. Defining the edges somehow makes it all look so much tidier.
You can use plants for many things apart from just beauty. They can screen an ugly fence, give privacy from nosy neighbours, add cool shade and even create a fence. Purchase mature plants from a nursery if you can't wait for that hedge to grow.
Don't grow large trees or shrubs too close to the house unless you know that its roots won't spread. Tree roots can do a great deal of damage to plumbing and other pipes as they seek water in dry times. If you have a garden close to the walls of the house, make sure it drains away from the house, not under it. Some trees and shrubs have a deep tap root that doesn't spread outwards.
Mulching will help to keep your garden free of weeds. Pine bark mulch lasts a long time and gives the garden a professionally done look.
Give your garden a uniform look by planting rows of the same species. But don't be boring; add other plants in as well so you get a good variety of blooms over a long time. Purchase plants for hardiness, leaf colour, winter berries after flowering, appealing leaf shapes and pretty bark so that each plant adds value in several ways.
If your lawn looks ratty, you could plant a new one or have turf laid. Sometimes just top-dressing it with a good quality soil and fertiliser will make all the difference.
Topiary filled planters at entrance ways will add elegance to your landscaping efforts. For immediate effect, plant pots with flowering annuals.
Prune, don't hack! A well-pruned garden is a joy to behold so if you don't know a bit about pruning, leave it to a professional gardener. Your shrubs will love you for it.