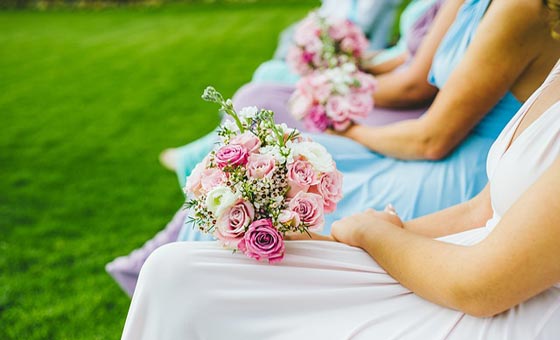 If choosing your bridesmaids isn't hard enough, picking their outfits such as bridesmaid robes for pre-wedding events, and the big day, will be. Not only do you have to cater for your tastes and the theme of your wedding, but you've also got to think about what they will like. Who wants to be known as the bride who made their bridesmaids wear the most horrific outfits?
Instead, think outside the square for the events leading up to the big day, and opt for bridesmaid robes that tick all the boxes. Below, we've included robe trends of 2018 that is sure to be appreciated by your bridal party.
Pajama sets
While traditional floral printed wraps are famous for being on trend and exceptionally versatile, pyjama sets could very well be the next big thing. As you treat your bridal group to a girl's day, full of champagne, manicures, and pedicures, why not opt for a silky set of summer PJs to get the party started? You can purchase them in a range of colours and styles, all the while being as flexible as a bridesmaid robe.
Sweatpants
Okay so it's not traditional, but if your wedding isn't traditional, why should your bridesmaid robes be? Sweatpants can be customised to include the names of your bridal party, and are a great talking point for a mid-winter wedding. Don't feel afraid to buck the wedding bridal party trend. Your bridesmaids are sure to appreciate the comfort these pants provide!
Big shirts
Long button-down shirts could very well be the next big bridesmaid robe trend. While it's certainly not "the norm," these shirts are versatile for all members of your bridal party and are easy to put on and take off while you're getting your hair and makeup done. It's also no big job to have them embroidered with the names of each bridesmaid. It's no bridesmaid robe, but it's just as comfortable as one!
Onesies
If your bridesmaids don't know each other very well, and you need something to break the ice quite effectively, bridal onesies will be the very thing to do it. Your bridesmaids, upon arrival to your relaxation destination, will be expecting a traditional satin bridesmaid robe, a wrap-around, or a kimono. At your wedding, that's not what they're going to get.
Purchase a winter onesie in one colour for each of your bridesmaids, one for yourself in a different colour, and one for your maid of honour if a different colour again. If your budget and time permits, have them screen printed with either their names or a generic "bridesmaid" and "maid of honour" on the back. Aside from being a source of hilarity, these onesies will be cosy and warm in winter and are easy to unzip and take off once hair and makeup have been done.
Of course, the real winner is always going to be a traditional bridesmaid robe. They're affordable, comfortable, stylish, and tie into any wedding theme beautifully. However, if you want to step outside of the square and get creative, any of the 2018 trends mentioned above will also tick all the boxes!