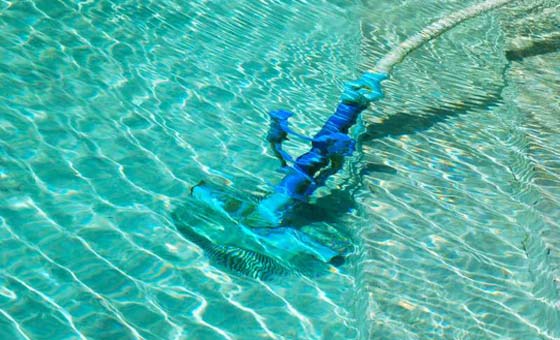 Having your very own swimming pool installed is very exciting. You and your family just can't wait to dive into that cool, clean water on a hot summer day. No need to go to the beach or a public pool.  The kids will still be able to take a dip even though even when you wouldn't have time to take them for a swim.  But after the excitement dies down, reality hits. You have to clean that pool to ensure the water is safe to swim in. Automatic pool cleaning products such as Kreepy Krauly immediately spring to mind.
Cleaning is about much more than just getting the pH right and adding a few chemicals. It is an ongoing and onerous task that has to be done both summer and winter, because leaves, dust and other debris to fall or blow into the pool where they start to decay, changing the pH of the water and allowing nasty bacteria to breed.
Cleaning a pool manually requires a great deal of time and elbow grease, a bit like vacuuming a houseful of carpet only it's worse because of the wet environment. If the thought of all this fills you with despair, it's time to invest in an automatic pool cleaner.
There are many kinds of automatic cleaners, so you'll have to research them and choose based on your pool type and budget.  Just make sure you don't simply jump for the most affordable one. The prices should be considered, but your needs and the time and energy you have available for this job are also important.  The three main types of automatic cleaners are: –
Suction-side cleaners – attach by hose to the pool's own water circulation system and use its skimmer and filter. A leap canister is an optional part only needed if you have lots of leaves, twigs and gumnuts falling into the pool. The device makes its own way around the bottom and sides of the pool.
Pressure-side cleaners – The main difference between this and the above cleaner is they have a filter bag so don't need to use the pool's filter, saving wear and tear on it. Some need a separate booster pump for optimal cleaning.
Robotic pool cleaners – as might be expected from the name, robotic cleaners are top of the range taking pool cleaning to a whole new level. One where you sit back and watch while enjoying the sun. They save on water, power and chemicals, so the initial higher cost is well worth it.
While each one has its advantages and price and many are made for a specific type of pool. The first two are admittedly much better than cleaning the pool manually, but it may be a better idea to save up for a few more months to get the one you really need; namely, the robot.