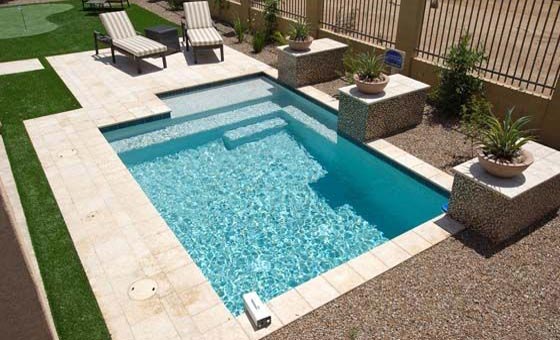 A plunge pool is a pool that is small but deep. It is used as a way to cool off and invigorate yourself, or it can be heated for more comfort, especially in the winter. Sam Sorgiovanni has included plunge pools in many of those amazing super yachts he designs and they are ideal for this. They can also be ideal for your home for a lot of reasons.
They make great use of available space or odd corners.
They can fit into places such as a small courtyard, where a larger swimming pool would not fit.
Because they can be heated they are suitable for use year round.
They are comparatively cheaper to heat than a swimming pool.
A plunge pool adds a wonderful focal point for the garden whether it is a small or large one.
It can also be designed to do double duty as a spa.
They can add great value to the home, meaning you may get a larger resale price.
You can install one on your deck, the veranda or in the back garden because they can be made to fit whatever space you have.
Having a plunge pool expands the living area of your home. It can be set up to complement your lifestyle and home for the best results.
It can be surrounded by beautiful plants or be in an environment where there are no plants at all.
It is easy to find a place for it, because the surface area is so much smaller than a swimming pool.
If you like to get wet without doing much swimming, a plunge pool is the perfect solution.
Plunge pools are easier to maintain than a large pool as they are much smaller.
You can tone your body with exercise in the plunge pool using aerobic or resistant type exercises.
Plunging into a cold pool after a sauna or hot shower stimulates the circulation and keeps you healthier.
A plunge pool can be used by the whole family.
As with any pool, safety measures should be taken to ensure children and pets are safe around the pool. If you have toddlers or children who can't swim, putting a fence around the plunge pool or keeping a cover over the top when it's not in use will ensure they stay safe.
Some plunge pools have steps leading down to make it easier to get out of. This is a good idea if you have children. Children should always be supervised in a pool area, no matter how small the pool is. Younger children should wear a floatation device of some kind, since the pool is so deep.