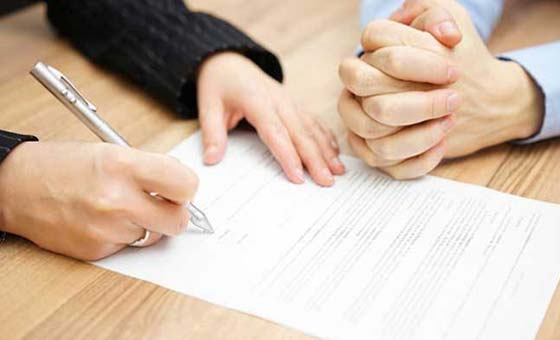 Some things – like writing a Will – don't need to be done by a lawyer, but an experienced family law firm like Robinson Family Lawyers is essential to create a Binding Financial Agreement (BFA) between two parties that is considered legal. Unfortunately, the breakdown of relationships these days is a common occurrence, so couples often make such an agreement before the marriage in order to protect their assets.
So if you are going to do this there will need to be not one, but two lawyers involved; one to act on your own behalf and one to act on behalf of your fiancée. Each one has to give their client – you and your fiancée – separate legal advice and they then have to sign a Certificate saying that they did so. Without these Certificates, the BFA will not be legally enforceable. Each party must be given a copy of both Certificates.
The Binding Financial Agreement is a legal document that can be quite complex. It can only be drafted by a solicitor or family lawyer after careful consultation with the client. Once this has been done and it has been signed by both parties, it will be extremely difficult for one partner to have it set aside by the court.
An experienced lawyer will be able to identify all the issues that need to be covered after they have taken instruction from their client and write it all up in legal jargon that ensures no loopholes have been left, and that all the points discussed have been properly covered, with every situation and circumstance having been included.
There is one way that a BFA can be legally put aside and that is if full disclosure has not been made in it. To avoid this, the BFA should contain the correct clauses to show this has been done and a waiver of any additional disclosure should be added.
While having your lawyers create a BFA may seem costly, not having one can be even more so. Without one your partner may be entitled to a great deal of your assets and if you don't agree, litigation can cost a great deal more, not to mention the time such things take to sort out, along with the emotional trauma that you will suffer for the whole time.
Don't make the mistake of drafting up an agreement that is like a contract and expect it to protect your assets because it will not. You can use a lawyer to draft up the whole BFA, or write it down into a template, but you will still need to have the lawyer involved to advise you and sign that Certificate mentioned above and the BFA. Once this is done you will have peace of mind about your future.