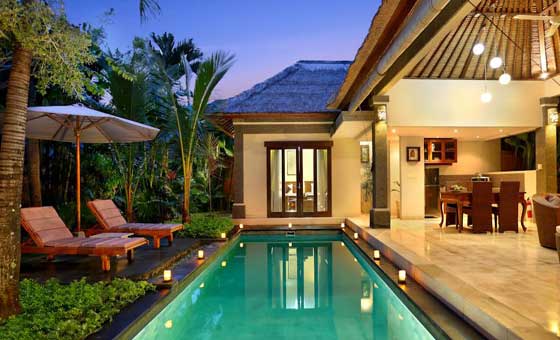 Visiting Bali is an exciting time, especially if you have never been before. It is important to get everything organised; buy your tickets ahead of time and book good accommodation to suit you or your group. According to Easy Bali Villas there are several accommodation options when you holiday at Bali, from hotels and resorts through to B&B or villas. The villas are becoming a popular choice for several reasons.
Staying at a Bali villa gives you more room and freedom. It's like having your own exotic cottage and you don't have to worry that you are disturbing people in the adjoining rooms every time you laugh or if you want to play music a bit loud.
There is a kitchenette and living area for your own use so you can brew a coffee or eat whenever you feel like it.
You can step outside and find a pool, lawns and beautiful surroundings and many villas are right near the beach. This beats stepping into a corridor, taking the elevator down to the lobby and then walking out into a busy and crowded street from hotel accommodation.
Villa accommodation can be most affordable when travelling in a group if you all share the cost. You can stay together as a group or family instead of being in different rooms or floors.
There is the lounge area that belongs to your group so you can interact with each other while still having the privacy of a bedroom to retire to. This is really good for families. The children can go to bed a little earlier, and the parents can stay up and talk without having to creep around so they don't wake the children.
You can book a chauffeur to take you into the city. And you get all the same facilities and amenities that a hotel provides, including a chef for the evening meal. This saves having to take children on yet another trip to get their evening meal when they are tired from the day's activities.
Many villas also provide cheap babysitting.
There will be little to no traffic noise, unlike a hotel that is in the middle of a busy city.
There are options within the villas. You can choose the number of bedrooms and the price, and if you want privacy, there are villas set apart in more secluded areas. The villas are beautifully appointed and look even more luxurious than many hotels.
You can also choose the level of staff attendance, having room service, cleaning, laundry – or not, as you decide.
Having such lovely accommodation to return to at the end of a busy day will ensure that you can get the most out of your holiday to Bali.